WordPress is the most popular website and blogging platform on the market, due to its flexibility, ease of use and relatively low cost – that is why we have have the focused WordPress hosting plans.
Host Geek is a WordPress hosting specialist. It's easy to create an impressive looking website or blog and because it's open source, it can be set up for a minimal cost.
WordPress also uses plugins, which enable flexibility and scalability. If you can imagine it – then it can be created! Whether you are an experienced web developer or an absolute beginner, we will speak with you in a language you understand.
Keeping your WordPress software up to date
is extremely important
When you choose a WordPress hosting plan with Host Geek, we will update your WordPress software to ensure that your website uses the latest stable version. It is vital for security and performance reasons to keep your website updated and secure to ward off speed issues and hackers. Let our WordPress experts handle the Geeky details such as automatic setup, core updates, backups, server optimisation, performance, and more!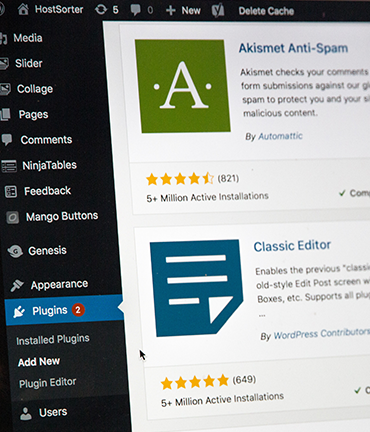 CHOOSE A PLAN THAT SUITS YOUR NEEDS
Select annual billing cycle and get 2 months FREE!
Billing cycle options: Monthly, Quarterly, Semi-annually, Annually and Bi-annually. Prices include GST.
*Your choice of .au, .com, .net, .org or .info. Subject to availability. Free offer only applies to initial 1-year registration.
ALL WORDPRESS HOSTING PLANS INCLUDE

Accounts are provisioned within minutes of your payment

Super fast SSD storage to speed up your website
Simple self-service configuration of your hosting account

Free migration of your existing website from another provider
WordPress Hosting Testimonials
The guys at Host Geek are absolute saviours! Any time I have an issue with a web site, a new registration, hosting or a cPanel issue they are always helpful and they get back to me very quickly, which is so important in business. Definitely Recommend Host Geek.
I was referred to Host Geek by a reputable marketing company in South Australia in about 2013 and have used them ever since for 4 websites that I have created. I am greatly appreciative of the quick response times, the ease of communication with them, and the professional services they provide. They always have solutions and have saved my websites numerous times from my own errors. I wouldn't bother going anywhere else as Host Geek is 'it' – they meet all my needs and I can't speak highly enough of the helpful service.
I switched to Host Geek about 4 years ago on recommendation from a friend after having significant issues with other providers. Since being with Host Geek, I have found their services reliable and their communication professional and informative. I'd recommend Host Geek to anyone needing domain names, email services or website hosting.